King meets US VP, calls for moving forward on two-state solution with East Jerusalem as Palestinian capital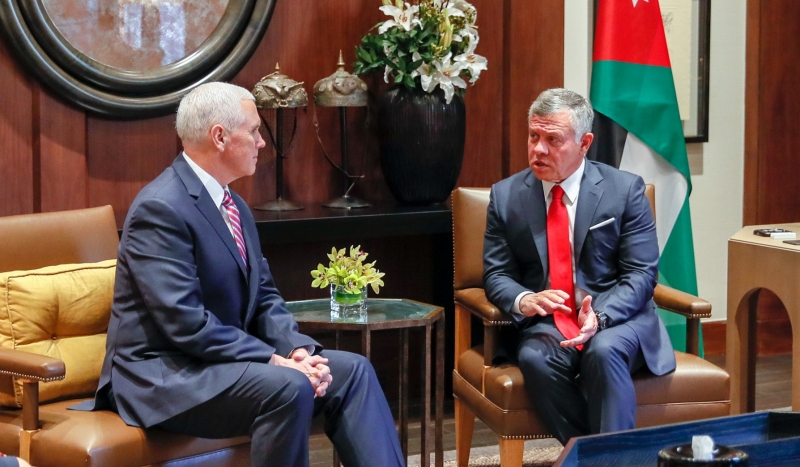 His Majesty King Abdullah's meeting with US Vice President Mike Pence on Sunday focused on the developments related to the Palestinian cause and Jerusalem, as well as the strategic partnership between Jordan and the United States.
At the start of the meeting, which continued over a working lunch attended by Her Majesty Queen Rania Al Abdullah and US Second Lady Karen Pence in addition to senior officials from both sides, King Abdullah welcomed Vice President Pence, noting that his visit comes at a very critical point in the region.
Thanking the US for its historical friendship and support to Jordan over the years, His Majesty said: "You have been a partner that has always stood with our country and our people through very difficult times, and I just wanted to express how much we appreciate the continuous support that we get from your country."
"Our wide-ranging discussions today I believe are timely, and as always—as friends and partners—we will be candid and frank with each other," the King added.
"As you are aware, obviously for us, the Palestinian-Israeli conflict, for Jordan and the region, we see as a potential major source of instability. That is why we were encouraged by the President's early commitment to bring a solution to this decades-long conflict," His Majesty told the US vice president.
"I had continuously voiced over the past year in my meetings in Washington my concerns regarding a US decision on Jerusalem that does not come as a result of a comprehensive settlement to the Palestinian-Israeli conflict. And I know that we are going to talk about that today, and that you have some points that you are going to raise," the King said.
"Again, for us, Jerusalem is key to Muslims and Christians as it is to Jews," His Majesty added, noting that it is key to peace in the region.
"Today, we have a major challenge to overcome, especially with some of the rising frustrations, and I think it's very important, and your visit here, I'm sure, is to rebuild the trust and confidence in… how we move forward with the two-state solution on, for us, June 4, 1967 lines and East Jerusalem as a capital of an independent Palestinian state living side by side with a secure and recognised Israel in accordance with international laws and the Arab Peace Initiative," the King said.
"We understand the challenges and we hope the US will reach out and find the right way to move forward in these challenging circumstances. We believe that with all the right intentions and the support of the international community, this is extremely possible. And we will work very closely with our friends in this endeavour," His Majesty continued.
"I want to reiterate our historic partnership; it has always been underpinned by the friendship between our two countries and our mutual interests in advancing peace, stability and prosperity in the region," the King added.
"And today, I know that we will be talking about some bilateral issues as well as some key regional issues and our commitment and our steadfastness with our partners to fight terrorism," His Majesty said.
For his part, Vice President Pence said it is good to meet with Their Majesties and to visit Jordan.
"I bring greetings from your friend, President Donald Trump, who asked me to come to Jordan to talk about a broad range of issues in security and prosperity and regional issues with you, and I'm grateful to have the opportunity to do that," he added.
"As you mentioned, Your Majesty, the United States and Jordan had stood together for decades. It has been a partnership strategic in scope, important in the region and important in the world," Vice President Pence said.
"We are here to reaffirm our friendship and our partnership and our great respect for you and for the role that the Hashemite Kingdom of Jordan has played in this region and across the globe... I'm also here to express our great admiration for your leadership and the courage of the Jordanian military in the fight against terrorism," he continued.
"Together, with the American military and the Iraqi military and our coalition partners, we've made dramatic progress in the battle against ISIS; driving ISIS out of Iraq, and driving ISIS out of the capital of their so-called Caliphate of Raqqa. And you can be assured that we will continue to work closely with you as we drive ISIS out of existence together," Pence noted.
"As the United States made clear in the recent days, we remain committed to Syria and to a presence in Syria not only to defeat ISIS, but to restrain the malign influence of Iran and other efforts in the region that would add to further destabilisation," he said.
"At President Trump's direction, we're announcing in the last week more than a $110 million that the United States is making available to rebuild Christian and religious minority communities in Iraq and Syria that have been decimated by war. And we're grateful for your personal commitment to religious diversity and religious freedom, and we look forward to working with you to ensure that all the peoples of all different faiths can find a way forward and recover after these years of conflict," Pence added.
Stressing that the US looks forward to His Majesty's counsel and Jordan's direct and central involvement in the peace process in the days ahead, he said: "President Trump made a historic decision to recognise Jerusalem as the capital of Israel, but as he also made clear in that decision, that we are committed to continue to respect Jordan's role as the Custodian of holy sites; that we take no position on boundaries and final status—those are subject to negotiation."
"And, as I've made clear to you and the President made clear to the world, the United States of America remains committed, if the parties agree, to a two-state solution," the vice president noted.
"We are committed to restarting the peace process, and Jordan does now and has always played a central role in facilitating peace in the region," he said.
The meeting, held at Al Husseiniya Palace, covered current regional developments and means to resolve them through political solutions, as well as the latest developments in the fight against terrorism within a holistic strategy.
Discussions also addressed the role of UNRWA, with His Majesty reaffirming the UN agency's key services in education, healthcare, and relief for refugees, which call for ensuring it receives sufficient support to continue its humanitarian responsibilities.
Vice President Pence affirmed President Trump's intention to continue working towards justly resolving the Palestinian-Israeli conflict, despite the differences in positions.
He also stressed His Majesty's credible voice in the region, noting that the United States is committed to Jordan's prosperity and stability.
The US is working on finalising the memorandum of understanding on the five-year support for Jordan, in appreciation of its pivotal role in the region and the world, Pence noted.
Royal Hashemite Court Chief Fayez Tarawneh, Foreign Minister Ayman Safadi, Director of the Office of His Majesty Jafar Hassan, Adviser to His Majesty and National Policies Council Rapporteur Abdullah Wreikat, and Planning Minister Imad Fakhoury attended the meeting.
On the US side, Nick Ayers, assistant to the president and chief of staff to the vice president; Jason Greenblatt, assistant to the president and special representative for international negotiations; a number of advisers to the vice president; and US Chargé d'Affaires in Amman Henry Wooster were in attendance.