His Majesty King Abdullah meets French president Emmanuel Macron, Iraqi PM | Royal Hashemite Court
King meets French president, Iraqi PM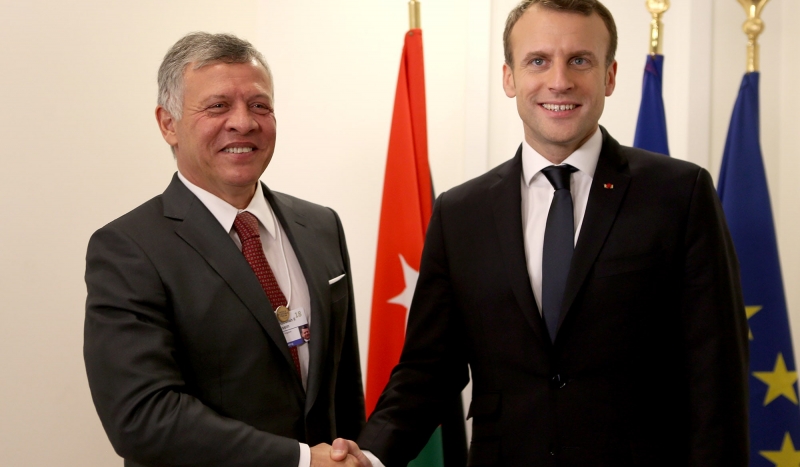 His Majesty King Abdullah on Wednesday met separately with French President Emmanuel Macron and Iraqi Prime Minister Haider Al Abadi in Davos.
King Abdullah and President Macron discussed Jordan's strategic partnership with France, affirming the importance of taking it to further heights in the economic, commercial, and investment fields.
The two leaders also stressed the importance of maintaining coordination and consultations on various regional and international issues.
His Majesty praised the economic cooperation between the two countries, expressing appreciation for France's support for infrastructure and development projects in vital fields, and noting the importance of French investments in Jordan.
The meeting also covered developments connected to the Palestinian cause and Jerusalem.
The King reaffirmed the importance of working to move the peace process forward by launching serious and effective negotiations between the Palestinians and the Israelis, leading to the establishment of an independent Palestinian state on the 4 June 1967 lines with East Jerusalem as its capital.
Jerusalem is key to achieving peace in the region, His Majesty reiterated.
Moreover, discussions addressed regional and international efforts to fight terrorism within a comprehensive strategy, as well as crises in the region and efforts to resolve them politically.
Foreign Minister Ayman Safadi, Director of the Office of His Majesty Jafar Hassan, and Planning Minister Imad Fakhoury attended the meeting.
At the meeting with the Iraqi prime minister, the King praised Abadi's efforts to enhance security and stability in Iraq, stressing the importance of supporting Iraq's rebuilding efforts.
His Majesty affirmed Jordan's steadfast position in support of Iraq's efforts to maintain its security and stability, in order to achieve further prosperity in fulfilment of the aspirations of its people.
The two sides stressed the deep-rooted ties between Jordan and Iraq, as well as their keenness to continue advancing cooperation in all areas, particularly in economic and commercial fields
The King noted the importance of working in accordance with the Iraqi constitution to rebuild trust and understanding among the different components of the Iraqi community, in order to achieve stability and prosperity.
Discussions also addressed efforts to fight terrorism and the need to support Iraq as it works to counter this threat to regional and global security and stability.
Foreign Minister Ayman Safadi and Director of the Office of His Majesty Jafar Hassan attended the meeting.