His Majesty King Abdullah meets Belgian monarch, president of Guinea in Davos | Royal Hashemite Court
King meets Belgian monarch, president of Guinea in Davos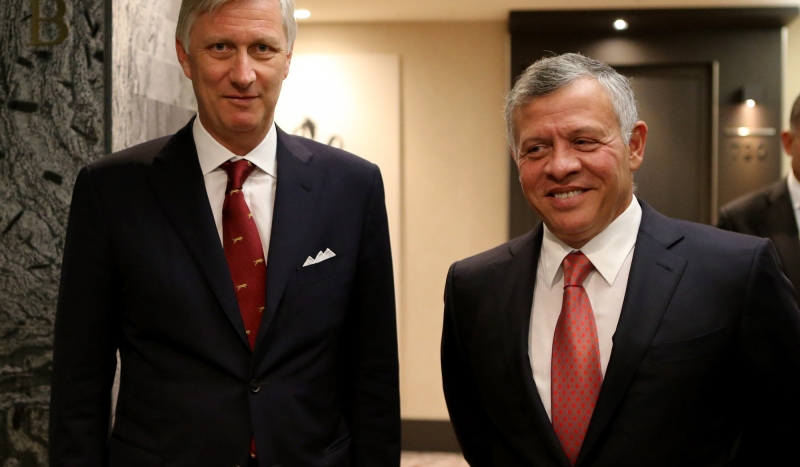 His Majesty King Abdullah on Tuesday met with King Philippe of Belgium in the first of a series of meetings planned on the sidelines of the World Economic Forum Annual Meeting in Davos.
Discussions at the meeting covered bilateral ties and ways to bolster them in economic, commercial, and investment sectors, as well as current regional and international developments.
The two sides affirmed the strong relations between Jordan and Belgium and their keenness to advance them, while also maintaining coordination and consultations on various regional and international issues, in the service of the two countries' mutual interests and with the aim of bolstering global peace and security.
The meeting also covered current developments in the Middle East, foremost of which is the Palestinian issue and Jerusalem.
King Abdullah reaffirmed the importance of stepping up international efforts to push the peace process forward, arriving at a just and comprehensive peace agreement between the Palestinians and the Israelis that leads to the establishment of an independent Palestinian with East Jerusalem as its capital, living side by side with Israel.
Moreover, discussions addressed regional and international efforts to fight terrorism, in addition to the crises facing the Middle East and efforts to resolve them politically.
In another meeting on Tuesday, His Majesty and President of Guinea Alpha Condé discussed means to enhance cooperation in various areas, particularly in the economic, commercial, and military sectors.
Discussions also covered current regional and international developments, as well as efforts to reach political solutions to regional crises.
In addition, the meeting addressed efforts to fight terrorism within a holistic strategy.
Director of the Office of His Majesty Jafar Hassan attended the meetings.